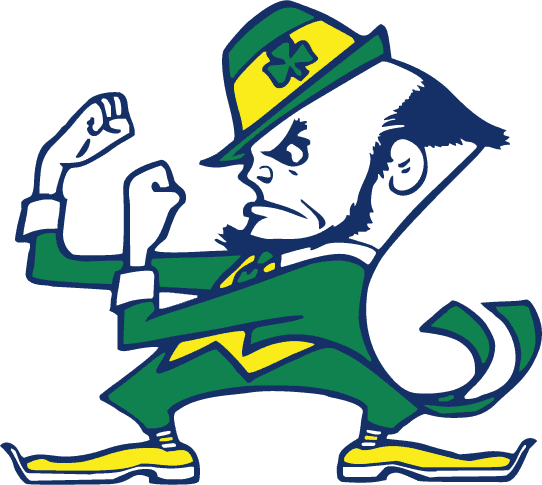 Notre Dame has always been a divisive team in the nation. Almost as many people enjoy seeing Notre Dame lose as seeing them win. Last year was a bit of a disappointment for the Notre Dame faithful with an 0-2 start and finishing on a two game losing streak to Stanford and FSU. The quarterback position was a constant struggle between Tommy Rees and Dayne Crist. Neither was able to put a stranglehold on the position and it led to a mediocre season. Brian Kelly has led the Fighting Irish to back to back 8-5 seasons making his seat a little warmer than he would like. Notre Dame has had a quick hook with their past two head coaches so Kelly will need to improve his record quickly.
Offensively, there will be a four man race for starting quarterback between Junior Tommy Rees, Junior Andrew Hendrix, Sophomore Everett Golson and true Freshman Gunner Kiel. Rees has the inside track due to his experience from last year but he never did wow Brian Kelly enough to secure the job. The quarterback competition will likely continue on through the summer and into fall camp. Notre Dame had the 35th best Total Offense in the NCAA and will likely finish in the top 35 again if they can improve their 55th ranked rushing offense. They will be breaking in two new offensive linemen which may complicate the ability of the winning quarterback to have time in the pocket. The departure of Michael Floyd will be a huge loss for the wide receiving corps. Senior John Goodman will be looked upon to fill that role. Former wide receiver Theo Riddick will be moved to running back to try and bolster that position. Riddick and Cierre Wood will split time at running back and try to replace departing Jonas Gray. With all of these changes, the offense will need some time to adjust and become a cohesive unit.
Notre Dame's defense finished tied for number 30 last year in Total Defense. Led by Senior Linebacker Manti Te'o, this unit should be the strength of the team for the first half of the season. The secondary is losing three key players in cornerback Robert Blanton, cornerback Gary Gray and safety Harrison Smith. Their replacements have experience but will need to get used to being the starter. The passing defense ranked 38th and the rushing defense ranked 47th. To become a dominant defense, they will need to improve greatly against the run.
Notre Dame's schedule is a manageable one this year but they will several tough games away from Touchdown Jesus. The Irish have road trips to Michigan State, Oklahoma, and USC as well as neutral site games against Navy in Dublin, Ireland and The U in Chicago. Their home schedule isn't too bad with the toughest game being Michigan closely followed by a rebuilding Stanford team. I think the Fighting Irish will probably end up in an 8-4 to 9-3 range with losses to USC, Michigan and Oklahoma. Michigan State will be the swing game for the Irish this year. If they can win that, they will be off to a 3-0 start.