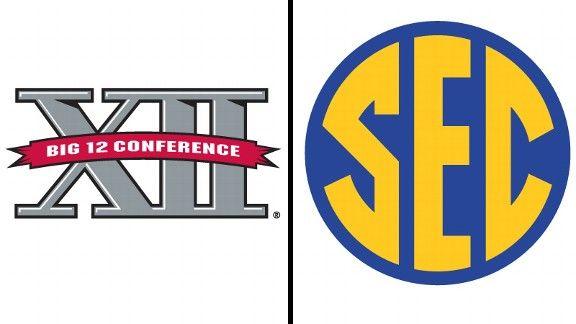 Today the SEC and Big XII
announced that they are going to have an annual showdown of conference champions in a bowl game for the next five years.
The site of the game has yet to be determined but many believe it will end up at either Cowboys Stadium or the Sugar Bowl. This is huge because these two conferences have acquired
10 of the 14
BCS Championships and 7 in a row. Now while the SEC has won 8 of the 14, the Big XII is the only two have won more than one.
These two conferences are steeped in football tradition with some of the biggest names in the game and the most passionate fan bases in the nation. The fallout from this announcement will make the other conferences jealous. True the Big Ten and Pac 12 get to play in the granddaddy of them all the Rose Bowl, but that game is losing its prestige. The SEC football brand is the most successful in the BCS era and
has won the last three years in television ratings
.
In my opinion, this is going to help make these two conferences the premiere conferences for the next 5 years. The Pac 12 is putting all their chips on a USC and Oregon rivalry to carry their banner and the Big Ten has had two horrible January performances in back-to-back years. The ACC and Big East are both jokes. The ACC hasn't had a BCS Championship Game appearance since FSU in 2000 and the Big East hasn't been since Miami in 2002.
The fact that the biggest hotbeds of recruiting are in these two conferences will help guarantee their continued dominance in recruiting. A game that features young talent will give coaches more tools to recruit to these two conferences. I am putting good money on the match up occurring in the Jerry Dome because it has become the preeminent football stadium in America. The Rose Bowl is a great place historically, but so is Legion Field. Both were great in their prime but they have both seen better days. The Jerry Dome is shiny new and put on a great show for Super Bowl XLV. The Cowboys Stadium Classic was a great showcase of what they can do for a major college football game. I heard nothing but praise from LSU fans about how great a time they had in Dallas. I know a lot of SEC Traditionalists will be upset that the SEC would move away from their Sugar Bowl tie for the SEC Champion, but times change.
All in all, this deal will make whatever venue they play in the second hardest postseason ticket behind the BCS Championship Game.